Chevrolet 1 1/2 Ton Tractor & 5 Ton Flatbed Trailer on US Army Transportation Corp Flat Car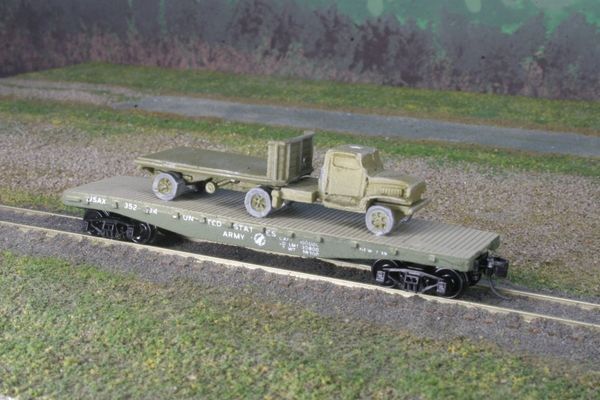 Chevrolet 1 1/2 Ton Tractor & 5 Ton Flatbed Trailer on US Army Transportation Corp Flat Car
The Chevrolet 1 1/2 Ton Semi Tractor and 5 Ton Flatbed Trailer were a vital component in moving men and material in every theater of WW2.

N Scale vehicles, pewter castings painted for the US Army, decaled, detail-painted, and hand weathered.
40' flat car is a pewter casting, painted, pad printed with US Army Transportation Corp markings and weathered.  This car is ready to run with Micro-Trains(r) Bettendorf trucks & couplers.